121114 MBLAQ's Lee Joon and B2ST's Doojoon talk about their roles in 'IRIS 2′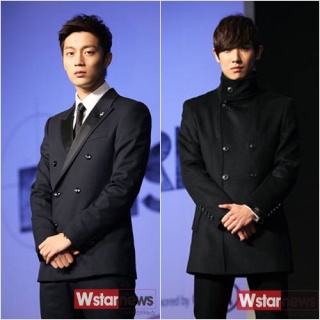 MBLAQ's Lee Joon and B2ST's Doojoon talked about their roles in 'IRIS 2'.
On November 13th, the two were present during the KBS 2TV 'IRIS 2′ showcase held at the Seoul Gangnam Ritz-Carlton Hotel to answer questions from the media.
Lee Joon is currently cast not only in 'IRIS 2′, but also as the lead in the movie, 'An Actor is an Actor'. He has previously been cast in the Hollywood movie 'Ninja Assassin' as well as many other dramas. When asked why he thought he was being cast into so many big roles lately, he answered, "It's because I work hard. I think people like me because I work hard. There's no other reason why I would be cast so in such great roles like this."
He also said, "There is definitely more pressure than before. In the past, I did action scenes with swords and chains, but now I have to move in detail with my own body. So I have to work harder."
Doojoon also talked about his role and said, "It's true that there's pressure because I really enjoyed the first IRIS. I'm focusing on filming by going back and forth from action schools to the shooting range. I'm going to do my best so I'm not a hinderance to the sunbaes who worked on the previous one as well."
When asked how the B2ST members reacted to his casting, he said, "The members were honored about my casting. To be honest, I'm the most pressured by the fact that the members will watch my drama more than anyone else. I'm going to do my best so I don't hurt the members."
IRIS 2 begins filming this month and is scheduled to air in early 2013.


credit as tagged